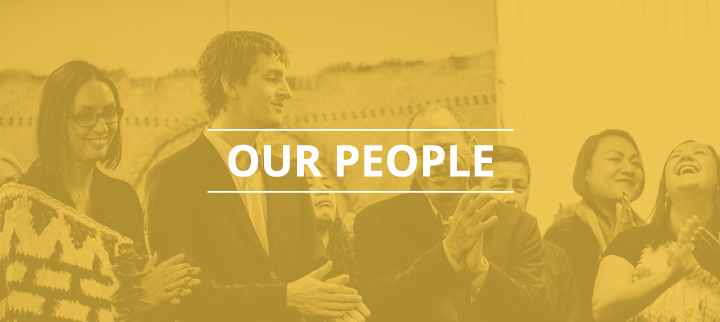 A bit about your background?
I was born and raised in Whangarei. I went to university in Waikato and moved to Auckland to work following the completion of my Masters of Social Science. I have worked for Youth Horizons all of my professional career with a short stint working part time in Youth Horizons and Child, Youth Family in their Specialist Services Unit. Working for Youth Horizons feels like coming home everyday to whanau, we have a combined energy and a joint mission to make a difference....why would I want to work anywhere else?
What do you do most days?
Now as a Registered Psychologist, I work as a Clinical Leaders across a number of care and community based services which provide interventions to families and youths with behavioural problems as their primary issue. In this role I help support, therapists, caregivers, social workers, skills trainers and practitioners through training, supervision and consultation.
What have you learned from working here?
I have learned that with genuine passion, commitment, sound cultural guidance and evidence based practice can help shift a youth from a negative path towards prison, drug and alcohol dependence or worse, to more positive outcomes.
Why do you enjoy your job?
I enjoy the success stories, where our teams have helped a youth and their families onto a better path. I also enjoy our team, their dedication, persistence and camaraderie is something that gets me out of bed in the morning.
How would you describe your team?
The Youth Horizons team is an exceptional bunch of people who are committed to influencing positive change in rangatahi/youth's lives. As a whanau we draw strength from each other to do whatever it takes to improving outcomes for kids and families.
What's a moment at work that you will never forget?
Hearing stories of rangatahi who have been in our programmes and their successes. We recently had a young man come back in to visit who had previously been a part of our treatment foster care programme. Initially, in the programme he had been very difficult to manage and had a vision for himself of becoming a gang member, "just like my family" he would say. Over time he improved, going to a sports course which he excelled at and engaging with his whanau more. When he visited us, he told us he was attending polytech and maintaining a part time job at a hair dressers. He had aspirations to further his polytech course and possible career outcome....there was no mention of becoming a gangster. These stories are absolute gold for us and keep our kete filled to keep going.

What attracted you to work at Youth Horizons?
From the beginning at Youth Horizons I felt at home. Everyone was so welcoming and it definitely has that whanau feel. They all have a passion for what they do and are all united in putting their best foot forward to serve the mission and purpose of Youth Horizons.
I'm very passionate about seeing teenagers and youth become all that they can be. I think as a society we have such low expectations of them and maybe that's why a lot of them don't take life with both hands and give it a go.
How do you find it being a Youth Worker?
I think it is definitely something that requires a lot of blood, sweat and tears (literally) but the results at the end of the day are so worth it. It definitely has its set of challenges but being able to see a kid change from what he was to where he has the potential to be is what keeps me motivated.
I've just been promoted to a Skills Trainer – here they really focus on your career, so watch this space!